Destination Guides for Self Catering Holidays in the UK and Overseas
When it comes to self catering holidays, the world really is your oyster. Enjoy reading through our free destination guides. Many UK residents nowadays have holiday homes abroad in Europe and further afield. So whether you are looking for a UK self catering break or a longer holiday abroad do enjoy finding out more about what there is to see and do. There are different types of self catering holidays you can enjoy including sightseeing, self-catering walking holidays, self catering cycling holidays and relaxing holidays. Other options include wildlife watching holidays and even whale watching holidays.
The UK & Ireland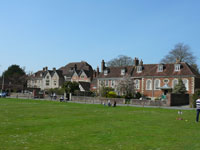 Many, particularly older people or families with children enjoy holidaying at home in the UK or Ireland. A holiday not too far from home is easy, there is no sorting out of passports, flights, foreign currency, innoculations and other items required for holidays abroad. South west Ireland is especially good for holidays filled with outdoor activities. See family self catering holidays in County Cork.
Self catering is also popular with dog owners because a large number of holiday cottages accept pets.
The UK and Ireland offer a range of widely varied self catering holidays and destinations: beach holidays during the height of summer, ski holidays in Scotland in the winter, woodland retreats, spa breaks, art and photography holidays, outdoor activity breaks, city breaks, romantic breaks... the list goes on.
England is best known for beautiful areas such as the Cotswolds, the Lake District, the Yorkshire Moors, Devon, Dorset , Cornwall, the Peak District and lovely East Anglia. There are many other fabulous places to visit all around England.

Scotland is known for opportunities for peaceful self catering holidays, bags of character and stunning landscapes.
The standard of holiday accommodation in Britain is as a general rule very good and we know what we can expect.
Ireland has a reputation for the offering the ultimate relaxing holiday, partly because the Irish people themselves used to appear most relaxed, witty and lovers of banter. Like Scotland, Ireland has golf courses galore from coast to coast, good fishing in rivers, lakes and sea fishing from the harbours of former fishing villages and off of rocks. Both Ireland and Scotland are noted for their production of the amber coloured spirit which is known as whiskey or whisky depending on whether it is the Irish or Scottish variety. The popularity of city breaks in both countries has grown over the years with people visiting Edinburgh, Dublin, Cork and Glasgow. Find out more about a self catering break in Ireland and look beyond the traditional pubs, golf and fishing.

France is a favourite holiday choice for many Brits. Just a short ferry drive or train ride via the Eurostar and you can be in France. France has so much beautiful countryside to enjoy and also has a reputation for divine food. Great cheeses and good wines are easily found throughout France. France has it all, countryside, chateaux, the amazing romantic capital city of Paris and beaches and good summer weather in the south. France is popular for both romantic self catering and family breaks. The Loire valley is a good choice if you enjoy wine tasting and chateaux viewing. France is within the Eurozone hence is not a cheap option but staying in self catering accommodation can often help keep costs down.
France is of course known for self catering holidays in typical french gites.
The Mediterranean, affectionally known as 'The Med'
Greece
Greece is a country that is attractive to many Brits for summer holidays. Staying in self catering accommodation in Greece can give you the advantage of more flexibility and freedom than a typical hotel stay. Known for its warm summer climate, beautiful islands with blue seas and white washed buildings, many parts of Greece are simply picture perfect. Visit Athens for the amazing Acropolis and the islands for chilled out summer holidays. Want to find out more? Watch the video from Visit Greece, the official Greek tourism organisation. Greece with its magnificent capital city of Athens is a country known for its ancient history, islands and hot summer weather. Traditionally a favourite holiday destination with Brits, the introduction of the Euro has meant that Greece is no longer a cheap holiday destination for UK visitors. The beauty of Greece though and Greece's amazing ancient history continues to attract visitors, particularly from other EU countries and the US.
The ancient sites of Delphi, Olympia and Meteora continue to draw tourists interested in heritage, the numerous beaches and warm seas attract holidaymakers seeking a carefree beach holiday in Greece or the Greek Islands. Greece is also a magnet for sailing holidays in the turquoise seas around the stunning Greek islands. Self catering breaks in Greece can be a good option for those looking to control costs by eating in more than out.
Spain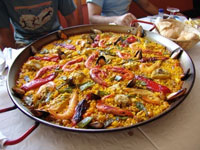 Spain is another Mediterranean country which has traditionally been a favoured holiday hot spot for Brits. Many are attracted to Spain on account of the sunny summer climate and beaches galore. The cities of Barcelona and Madrid are also popular city self catering break destinations. As with Greece, Spain is no longer known for cheap summer package holidays for UK visitors but continues to be popular with holidaymakers within the Eurozone. Again if you want to experience the delights of Spain you may well find that a self catering break works out well for you in terms of value, particularly if you book well ahead and get cheap flights. The Balearic islands are popular for summer holidays due to the usually sunny hot climate.
Italy
Italy is a classic holiday destination. Many visit Italy on account of its beautiful architecture, class and arty vibe. Sicily is an island off Italy and is a particularly popular holiday choice. Home to ancient sites and Mount Etna, Sicily has much to intrigue and amaze visitors.
Malta is known to be a picturesque island with generally good sunny weather all year round. The Maltese have strong links with Britain and a fond regards for all things British. Virtually everyone in Malta can speak English extremely well, it is taught in all schools there. Malta is also famous for its rocky landscape, coastal resorts and many beautiful churches.
Visit Mdina, the ancient walled city famous for its art glass and Venetian past. Explore the capital Valetta. Take a boat trip to the sister island of Gozo with its blue lagoon.
Turkey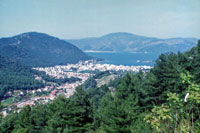 Turkey is becoming more and more popular for summer sun holidays. Turkey for many Brits is still a good value for money option. Like nearby Greece, Turkey is known for its ancient sites and beautiful beaches. Turkey is an attractive choice for villa holidays where you can enjoy all the benefits of self catering. Many villas nowadays have pools, perfect for taking a cool dip after soaking up some of that summer sun.
Other Summer Sun Destinations
The Canary Islands are an all year round sun destination and very popular for winter breaks. These islands are Spanish yet located nearer North Africa than Spain.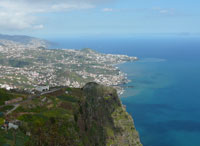 Madeira is Portuguese and is an island with a sub tropical climate that is pleasantt all year round, rarely too hot in summer or too cold in winter. Madeira is bountiful with tropical flowers and plants and in many places you can see banana trees. Madeira is a charming place and the capital of Funchal has an attractive city centre with cafe society galore.
Huge ocean going cruise ships stop at Madeira to allow their passengers to explore Funchal and the Madeiran countryside and parks.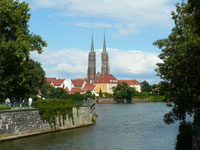 Eastern Europe is fast becoming a popular holiday destination. Eastern Europe offers good value for money for Brits and is a good option for those looking for cheap and cheerful breaks. You can enjoy eating out in Eastern Europe relatively cheaply which appeals to many. The pound goes much further in Eastern Europe than in the Eurozone. What's more there are some truly beautiful places in Eastern Europe with a depth of history attached.
Many eastern European cities are recommended for romantic breaks. Prague in the Czech Republic is particularly renowed as a beautiful city for romantic breaks, as is Hungary's Budapest. Book a weekend romantic break in Wroclaw and lock your padlock with you and your love's initials engraved on it to the lover's bridge, then throw away the key. Poland, Romania and Bulgaria are developing a reputation for good value ski holidays.
The countryside of Eastern Europe is unspolied and recommended for walking and hiking holidays. There are hills and mountains, woodland, lakes and rivers along which to walk or cycle.
Go to Krakow for a gourmet break with a choice of over 500 restaurants or go into the Tatra Mountains for an outdoor feast with the Highland people around a bonfire, accompanied by folk music. Eastern Europe offers that 'something different' on holiday.
Hungary



Hungary is home to the city of Budapest which attracts visitors from far and wide with its incredible architecture and historical buildings. Outside of Budapest, Hungary is by and large an unspoilt country which can be wonderful if you are looking for a quiet relaxed self catering break.
Poland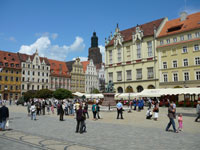 There are a number of interesting appealing cities in Poland including Krakow with its impressive castle. In the north there is Gdansk which seems more German than Polish in many ways. Gdansk is near the Polish seaside resort of Sopot which is twinned with Southend on Sea in Essex.
Wroclaw in the south west of Poland is a beautiful city with a cosmopolitan feel and a stunningly beautiful and lively old town square.
In the south of Poland are the Tatra mountains which attract many visitors during the summer months for hill walking and skiers during the winter season. Within the Tatras is Poland's popular ski destination, Zakopane. As with Hungary, there is lots of charming unspoilt countryside in Poland for outdoor pursuits.
Exotic Destinations
South Africa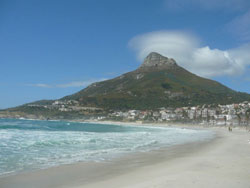 South Africa is an incredibly beautiful country. Visitors from the UK will be amazed by the scale of things in this country. Everything seems bigger. Whether you are enjoying views of the mountains or the sea, South Africa is magnificent and bountiful in her beauty. And if you love wildlife watching don't forget that certain parts of the South African coast are hotspots for whale watching at the right time of year. Some head to South Africa purely to go on a Big 5 safari whereas others enjoy sightseeing.

Cape Town is an amazing city with lots to offer. Whether you decide to tour the Garden route or explore elsewhere we trust that you should be amazed by South Africa. Safety is a consideration when visiting South Africa as the country does have a certain reputation. Take precautions like locking car doors and stay away from poorly lit quiet areas after dark. When looking for self catering accommodation do check whether it is within secure compounds as this may help offer some peace of mind. Don't be put off visiting South Africa though, when visiting it often feels no less safe than other major cities like London for example and the food, landscape and experience of South Africa is to be treasured.




Caribbean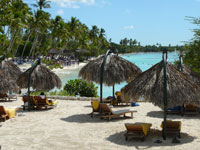 The Caribbean has long been one of the preferred holiday destinations of choice for the rich and famous. Islands like Jamaica, Grenada, Barbados and Antigua with their white sands and turquoise waters are the stuff of dreams. A holiday in these exotic places though has never been so attainable with the increased availability of cheap flights in recent years.
Related pages for self catering accommodation abroad
Travel writers wanted
Are you a seasoned traveller with a good knowledge of the British Isles or Ireland? Can you write beautifully and quickly using the regional knowledge in your head? You may wish to share your travel experiences with us and earn a little pocket money.