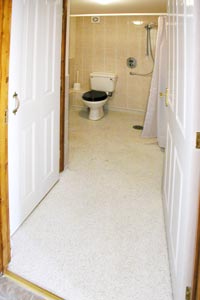 Looking for an accessible holiday cottage? Browse through our collection of holiday cottages with accessible features for the disabled. Staying in ground floor accommodation can make a lot of sense if you have special access needs, and you may also be searching for other features such as wheelchair-wide doorways, a ramp, stairlift or a wet-room with grab rails. See ads for details of the disabled accessible features available at each cottage.
Finding the Best Accessible Cottage for You
The best cottage to suit you will depend on your own specific access requirements. We recommend that you always speak to owners or agencies before booking to ensure that any holiday cottage fully meets your access needs.
If you want to find a holiday cottage that has been assessed in terms of its accessibility, choose a cottage that has signed up to the National Accessible Scheme and has obtained a yellow badge and a mobility impairment or visual impairment rating.

We hope you find the ideal disabled accessible cottage for you.
Click on the following heading to view a list of holiday cottages, villas, log cabins and apartments with facilties for people with disabilities.
The cottages and self catering apartments listed below have some facilities for the disabled, discuss your special needs before booking.
Please click on the country of your choice to display cottages and accommodation with wheelchair access and other facilities for the disabled.