Villas and apartments for holidays in Spain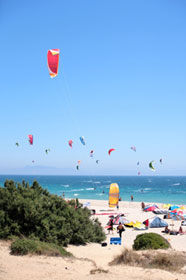 Ever popular for holidays in the sun, Spain welcomes visitors all year round.
Stay in a villa or apartment for an easy summer holiday with lazy days on the beach, or go further inland to explore Spanish towns and villages. Read about the fascinating and beautiful inland areas of Spain, each with their own character, history and culture.
Or perhaps you would prefer to escape the British winter and rent a village house or villa in Spain, Portugal or Madeira for the winter months when you can rent at rock bottom prices? Lots of British retired couples want to rent apartements for long lets and spend several weeks in Spain and the Canary Islands where it is nice and warm and the saving on fuel at home compensates for the price of their self-catering holiday.
Or perhaps, you're looking for a Spanish city break with a stay in a self-catering apartment in Barcelona, Seville or Madrid.
Use the Search Page to find a villa or apartment in Spain that matches your wish list. There are apartments in Spain with a bath (so many people prefer a bath to a shower), a swimming pool is often top of many lists. It is useful to make that wish list before looking so that you can carry out specific searches.
Popular regions of Spain for holidays, click to read about each area:
Almeria,
The Balearic Islands of Ibiza, Formentera, Majorca or Mallorca and Menorca,
Castilla La Mancha,
Navarra and Cantabria in the north of Spain,
Catalonia, Ceuta, Galicia on the Atlantic coast,
Costa Blanca, Costa Brava, Costa Calida, Costa de la Luz, Costa del Azahar, Costa del Sol, Costa Dorada, Costa Tropical,
Extremadura in the west of Spain for stunning natural beauty,
Murcia in the south east or the winelands of La Rioja.