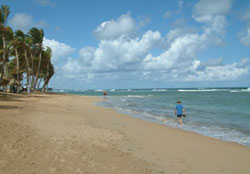 The Caribbean is one of the most stunning seas on earth for beautiful islands with uncrowded sandy beaches. Palm trees fringe the pale gold to white sand beaches lapped by warm seas. There are coral reefs teeming with colourful fish; shallow waters where you can stand and watch the fish swim by or snorkel for a better view.
There are more than 7,000 islands in the Caribbean, each one a unique paradise. Those familiar as Caribbean holiday destinations include:
Anguilla, Antigua, Aruba, the Bahamas, Barbados, British Virgin Islands, Cayman Islands, Cuba, Curaçao, Dominica, Dominican Republic, Grenada, Guadeloupe, Jamaica, Martinique, Montserrat, Puerto Rico, Saint Lucia, St. Barts, St. Croix, St. John, St. Kitts, St. Martin, St. Thomas, St. Vincent and the Grenadines, Turks and Caicos.
There are plenty of hotel resorts in the Caribbean, but if you would prefer to choose when you socialise and have your own privacy, then a holiday villa or apartment is for you. Many holiday villas will be by the sea with opportunities for watersports.
Self-catering villas and apartments in the Caribbean: